10 February 2022



President Cyril Ramaphosa will deliver the State of the Nation Address on 10 February 2022 at 7pm before a joint sitting of the two houses of Parliament, at the Cape Town City Hall.
The fire which engulfed Parliament destroyed the bricks and mortar but our democracy has always been about the people. Our nation and her people remain strong and the SONA is an opportunity to redouble our efforts to build a better tomorrow for all.  
The State of the Nation Address sets out government's key policy objectives and deliverables for the year ahead, highlights achievements, flags challenges and outlines interventions to unlock development interventions for the coming financial year.
During his address, President Ramaphosa will highlight what has been achieved by the administration since his last address in 2021. He will also reflect on government's response to fight the COVID-19 pandemic, and progress on the Economic Reconstruction and Recovery Plan which puts the creation of jobs at the heart of our economic recovery.

The State of the Nation Address was broadcast live on: South African Government Facebook and South African Government Twitter account as well as on DStv Channel 408, SABC TV, eNCA, SABC radio stations, live viewings and South African Government YouTube Channel.
FAST FACTS
The State of the Nation Address is divided into three parts. The first is the important public participation role in the ceremony when the Civil Guard of Honour welcomes the President and his guests as they walk along the red carpet. This is followed by a state ceremonial, which includes a 21-gun salute and the South African Air Force flypast and finally the official address by the President.
Members of the South African National Defence Force (SANDF) line the route that the President takes to Parliament.
The Military Guard of Honour participates in the ceremony and the military band plays South Africa's national anthem.
In a general election year, two State of the Nation Addresses are delivered.
The State of the Nation Address is one of the rare occasions where the three arms of State, namely the Executive represented by the President, Deputy President and Ministers; the Judiciary, represented by the country's Chief Justice and the Judge Presidents; and the Legislature, represented by the Members of Parliament gather in one place.
The provincial and local spheres of government are also represented.
 
Why SONA Matters: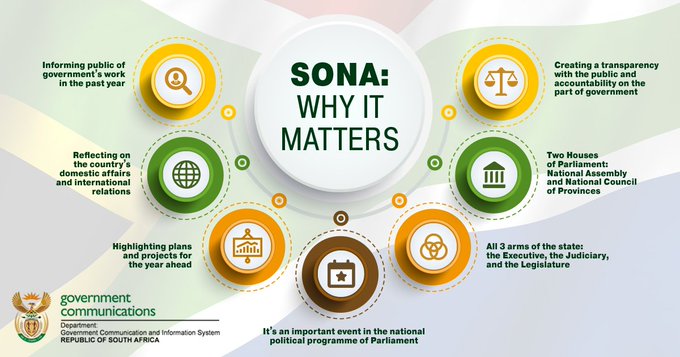 Follow the conversation on social media using  #SONA2022
Related links: