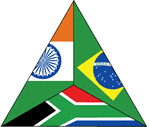 IBSA is a trilateral, developmental initiative between India, Brazil and South Africa to promote South-South co-operation and exchange.
Following discussions between the Heads of State and Government of the India, Brazil and South Africa at the G8 meeting that took place in Evian in 2003, and ongoing trilateral consultations, the Foreign Ministers of the respective countries met in Brasilia on 6 June 2003. At this meeting between Ministers Nkosazana Dlamini Zuma from South Africa, Celso Amorim from Brazil and Yashwant Sinha from India, the launching of the IBSA Dialogue Forum was formalised through the adoption of the "Brasilia Declaration"
The main objectives of the IBSA Dialogue Forum are:
To promote South-South dialogue, co-operation and common positions on issues of international importance
To promote trade and investment opportunities between the three regions of which they are part
To promote international poverty alleviation and social development.
To promote the trilateral exchange of information, international best practices, technologies and skills, as well as to compliment each others competitive strengths into collective synergies.
To promote co-operation in a broad range of areas, namely agriculture, climate change, culture, defence, education, energy, health, information society, science and technology, social development, trade and investment, tourism and transport.
The IBSA Dialogue Forum has regular consultations at Senior Official (Focal Point), Ministerial (Trilateral Joint Commission) and Heads of State and/or Government (Summit) levels, but also facilitates interaction amongst academics, business and other members of civil society.
Fifth IBSA (India-Brazil-SA) Summit, Pretoria, South Africa: 17 to 18 October 2011
Fourth India, Brazil and South Africa (IBSA) Summit, 15 April 2010
Third IBSA (India-Brazil-SA) Summit, New Delhi, India: 15 October 2008
India-Brazil-South Africa (IBSA) Trilateral Meeting in New Delhi, India: 29 July 2008
India-Brazil-South Africa (IBSA) Ministerial Commission Meeting, Somerset West, South Africa: 11 May 2008
India-Brazil-South Africa (IBSA) Summit, Pretoria: 14 to 18 October 2008
India-Brazil-South Africa Ministerial Summit, New Delhi, India: 17 July 2007
More information