15-21 November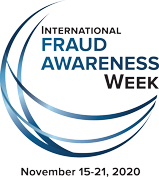 International Fraud Awareness Week encourages business leaders and employees to proactively take steps to minimise the impact of fraud by promoting anti-fraud awareness and education. Fraud awareness is critical at a time when organizations around the world lose an estimated 5 percent of their annual revenues to fraud.
The National Anti-Corruption Hotline for the Public Service is a government initiative. It ensures that all cases of alleged corruption are reported centrally and re-directed to the relevant departments/provincial administration for further attention.
To report acts of corruption or fraud, dial the toll-free number 0800 701 701 or SMS 39772.
Join the global effort to minimize the impact of fraud by promoting anti-fraud awareness and education
For more information: https://www.fraudweek.com/