South Africa's foreign policy contends that our national interests are better safeguarded by not just focusing on our own national interests, but broadly on the interests of our region and our continent.
Our country, as a member of the BRICS (Brazil, Russia, India, China and South Africa) bloc, is playing an important role towards the shifting and distribution of power internationally. This shift is expected to give rise to a multi-polar world order.  
Our interaction with fellow BRICS states is premised on three levels of engagement: firstly, national, where we advance our national interests; secondly, regional, where we promote regional integration and interaction with specific emphasis on the African Union mandate given to President Jacob Zuma to promote infrastructure development across the continent; and, thirdly, on a global level, where we advocate for a more inclusive global governance system.
The BRICS bloc represents 43% of the world's population, approximately one fifth of global gross domestic product (GDP), estimated at US$13,7 trillion, as well as combined foreign reserves estimated at US$4,4 trillion.
Last year, 2012, the BRICS countries accounted for approximately 11% of global annual foreign direct investment (FDI) flows (US$465 billion) and 17% of world trade.
South Africa's membership of BRICS contributes to further leveraging economic opportunities for our own development agenda as well as that of the continent.

 We want to ensure that our membership of BRICS also benefits the entire continent. The Fifth BRICS Summit scheduled for 26-27 March 2013 in Durban will constitute another high-level opportunity to further support key priority areas of the African agenda.
Asset Management Global Chairman, Mr Jim O'Neill, publicised an article entitled "South Africa's BRICS Score: Not All Doom and Gloom". O'Neil argued objectively that South Africa could more than justify its presence in BRICS if it helped Africa to fulfill its remarkable potential by exploring cross-border expansion in trade and infrastructure, as well as improvements in domestic productivity.
Africa is emerging as one of the fastest growing markets with the potential of future growth due to the demographic basis underpinning this growth and the new consumer market that is emerging.
The BRICS countries now constitute the largest trading partners of Africa and the largest new (not total) investors.
The BRICS investment portfolio in Africa is very encouraging and promising. Over the past decade, we have seen a seismic acceleration of commercial and strategic engagements between the BRICS and Africa.
BRICS has nourished Africa's economic emergence and elevated the continent's contemporary global relevance. The recession and recovery period has enhanced this shift. In 2010, Standard Bank economists predicted that BRICS-Africa trade will "see an additional increase in the velocity of BRIC-Africa engagements, with trade and investment spearheading the commercial charge".
According to Standard Bank, BRICS-Africa trade will increase threefold, from US$150 billion in 2010 to US$530 billion in 2015.
The exponential growth potential of BRICS over the years to come will impact considerably on the future of emerging markets and developing economies – especially in the case of Africa.
South Africa's membership of this emerging markets bloc must be understood within the context of what we wish to achieve against the current challenges we face as a country and a continent.
As part of the developing world, South Africa faces the challenges of poverty, unemployment and inequality. BRICS Leaders engage in peer learning and share best practices and development models.
The Indian Prime Minister, Manmohan Singh, outlined 10 specific priority areas at the New Delhi Summit last year. These included job creation; skills upgrading; energy, food and water security; sustainable growth through expanded trade opportunities; clean energy; income inequality; urbanisation; and the impact of the external geo-political environment.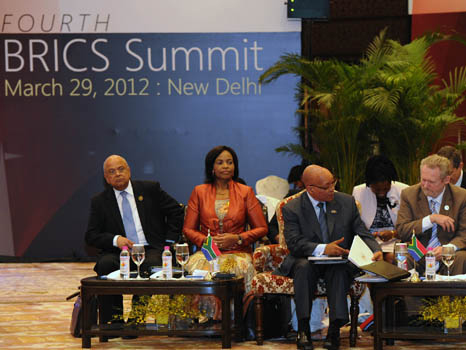 Members of the delegation to the fourth BRICS Summit in New Delhi: Minister of Finance Pravin Gordhan, Minister of International Relations and Cooperation, Maite Nkoana-Mashabane, President Jacob Zuma and Minister of Trade and Industry, Rob Davies
Due to the complex nature of our challenges, the South African government has singled out infrastructure development as a key vehicle for improving the quality of life of the people. Infrastructure development is also expected to boost our competitiveness and create jobs.
Our BRICS partners view South Africa as a springboard into the African continent and a partner for economic development opportunities.  At the New Delhi Summit, President Zuma met with captains of industry from fellow BRICS member states and invited them to join hands with South African companies in the development of Africa, pointing out that in the infrastructure sector alone, US$480 billion in investments will be required over the next 10 years.
BRICS leaders already expressed support in the Sanya Declaration for infrastructure development in Africa. They are committed to the continent's industrialisation within the framework of the New Partnership for Africa's Development (NEPAD).
In the Delhi Declaration, the leaders expressed further support for Africa's industrialisation, saying they "attach the highest importance to economic growth that supports development and stability in Africa, as many of these countries have not yet realised their full economic potential".
The BRICS economies, which already constitute between 20 and 25 per cent of global GDP, will link a large part of Africa with the fastest growing economies in the world.
Maite Nkoana-Mashabane is Minister of International Relations and Cooperation