We have all heard the quotation "no man is an island" (by poet John Donne). Well, no government is an island either.
Since the democratic government came into power in 1994, it has always understood and appreciated that it functions within a broader community of other democratic institutions, businesses, nonprofit organisations, communities and various other entities, each of which have a role to play towards building South Africa.
Government takes full ownership of its mandate, but it will be unrealistic and plain foolish to think that government alone can build South Africa and better the lives of South Africans.
President Jacob Zuma's address to the Non Profit Organisations Summit on 16 August emphasised "the NPO sector remains an indispensable partner for government as we pursue the development agenda."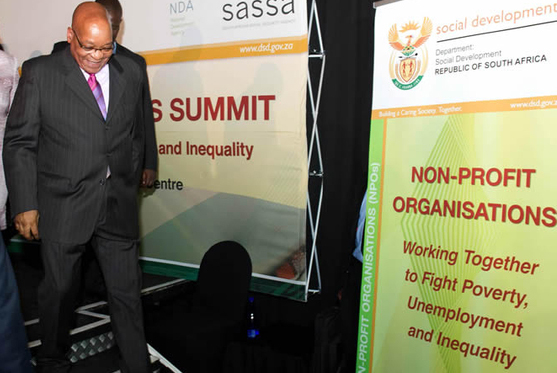 President Jacob Zuma at the Non-Profit Organisations summit. The summit was hosted by the Department of Social Development with the aim to create a platform for effective partnerships between government and non-profit sector.
Whereas prior 1994 the activities of the NPO sector were largely focused on anti-apartheid petitions and protests, today these include service delivery initiatives in key areas such as HIV and AIDS, child care, poverty reduction, victim empowerment programmes, social crime prevention, economic development and policy advocacy, said President Zuma.
The power of partnership can be seen with government's management of the HIV and AIDS pandemic. Initially, there was an 'us' versus 'them' situation where the likes of the Treatment Action campaign (TAC), for example, had an adversarial relationship with government.
Today, under the leadership of Deputy President Kgalema Motlanthe, the country has moved towards collaboration on HIV and AIDS between government, civil society organisations, the business sector and development partners which saw collective ownership for South Africa's Global Aids Response Progress Report 2012 which was presented at the 19th United Nations (UN) International World AIDS Conference held recently in Washington DC.
As part of the Women's month celebrations, Minister of Women, Children and People with Disabilities, Lulu Xingwana, commended the Motsepe Foundation on the Gender Responsive Budget Initiative.
"What impresses me most about this initiative and other initiatives of this nature, is that they are driven by non-governmental organisations to help government achieve part of its mandate and objectives, but most importantly, to improve the quality of the lives of our women, both in urban and rural areas," she said.
The GRBI, launched in February this year, is an initiative of the Department of Women and People with Disabilities and the Motsepe Foundation. It aims to strengthen the capacity of government to review and analyse budgets to ensure that the needs of women are specifically and equally addressed. This will enhance the building of capacity in communities to enable ordinary women to determine where their priority economic needs and gaps are, and to also establish what resources or intervention mechanisms are needed to address those gaps. This is an excellent example of what government and non-profit organisations can do in working together.
Education is one of the five priorities of this government and was also placed as a defining feature or apex priority of this Administration. In this regard, the launch of READ Educational Trust's 2012 Readathon, from August to October 2012 is heartening news to a government which prioritizes South Africa's literacy.
Read Educational Trust is a South African based NGO that operates in the education and literacy sectors broadly, and in educator training and school resource provision specifically.
Adhering to tradition, the 2012 campaign will be built around a number of literacy activities, central to which is a handbook that encourages teachers by providing literacy activities and provides them with a selection of stories, quotations, slogans, competitions and posters. It includes a variety of writing frames, examples and illustrations – invaluable for the workshops that will be held over the next three months. Some 4 000 handbooks will be distributed to schools nationally. These can also be downloaded from the READ website in three booklet formats.
Government welcomes all these initiatives and many more that are not mentioned in this column. We know, for example, that from the business sector there are many corporate social investment (CSI) programmes, some of which support government's five priorities. At a recent South Africa-US business partnership meeting, Minister of International Relations and Cooperation Maite Nkoane-Mashabane commended US companies for being major contributors to CSI in South Africa.
The five priorities become truly national when they are not just pushed by government but are embraced by business, civil society and our foreign partners.
At a time when governments the world over are faced with shrinking budgets and increasing citizen demands, partnership between government and the NPO and business sectors should be a given. An unwelcoming attitude, as a rule, to the NPO and business sectors is simply unsustainable – unless, of course, government has a bottomless pit of money.
Yet some of us within the bureaucracy still regard these partnerships with suspicion and are very territorial over our "bureaucratic space". However, the embrace of the NPO sector by our political principals, their welcoming disposition towards CSI and the existence of a Cabinet-endorsed strategic framework on public private partnerships do suggest that at times the bureaucrats, at least those who view with suspicion anyone who is not from within, may be out of sync with the policy posture of the very Administration they work for.
Vusi Mona
is Deputy CEO of Government Communication and Information System, he served in the government's communication task team on the GFIP.