Labour disputes around the country over the past few weeks have put a spotlight on labour rights in South Africa. These strikes have been characterised by incidents of violence and intimidation.
Government expressed its concern over the lawlessness, violence and intimidation and urged all parties to abide by the rule of law as enshrined in the Constitution. It further called on strikers to use existing channels for wage negotiations and dispute resolution and not to resort to violence and intimidation, and disregard for accepted procedures that are clearly delineated in labour legislation.
Rights contained in the Bill of Rights are not absolute; they are limited. The relationship between the law and rights is that the rules of law prescribe on the powers that the holder of a right may exercise and its limitation. Section 23 of the Constitution is of particular significance in that it deals with a number of labour rights, including the right to fair labour practices, to form and join a trade union; participate in its activities and to strike.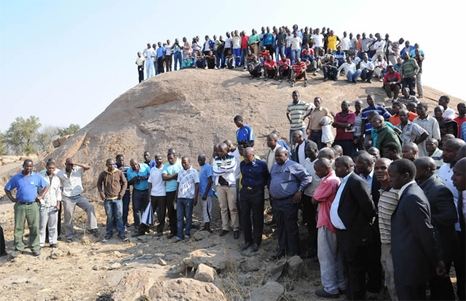 These rights come with responsibilities. In the case
South African Transport and Allied Workers Union and Another v Garvas and Others
, Chief Justice Mogoeng Mogoeng writing for the Constitutional Court stated: "The fact that every right must be exercised with due regard to the rights of others cannot be overemphasised." For instance, the right to strike in South Africa compels the strikers to see to it that they do not infringe on other peoples' rights as they exercise their rights.
More importantly, no one should be forced to participate, or not take part in an industrial action. Those protesting should furthermore not resort to any form of violence against people or property. Non-striking workers have rights too and these must be respected. Our laws criminalise violent acts, intimidation and destruction of property. The South African Police Service (SAPS) has the constitutional responsibility to uphold and enforce the law to those who engage in these acts.
The state's right to maintain public order takes precedence over an individual's right. This is to ensure that all South Africans are and feel safe. Speaking about recent mining strikes Labour Minister Mildred Oliphant stated: "Acts of violence, intimidation and damage to property and any other forms of lawlessness has no place in the industrial relations and must be condemned in the strongest terms possible. The law enforcement institutions including the South African Police Service must step in to deal with lawlessness."
Labour relations in the country is governed by the
Labour Relations Act (LRA)
. It is the outcome of all-encompassing consultations between government, labour and employers and gives effect to fair labour practices as contained in Section 23 of the Constitution. Its main purpose is to advance economic development, social justice, labour peace and democracratise the workplace. It furthermore abolished cheap labour policies, racial discrimination and union repression to name a few.
In addition, it provides a framework for collective bargaining and regulates the relationship between employers and employees. The term collective bargaining involves negotiations between employer and employee on all issues of shared interest relating to the terms and conditions of employment. The Act stipulates the procedures to be followed in instances of labour disputes and which institutions are tasked with settling disputes. In general the ethos of the Act is to encourage the resolution of disputes through dialogue and discussion.
There are few requirements employees have to go through before embarking on a protected strike. They must first and foremost have a purpose. The purpose of the on-going mining industry strikes around the country for instance is to force employers to agree to their demands of salary increase and improve living and working conditions.
There must secondly be consensus among employees to act collectively to strike against their employer. To put this into practice workers will have to refuse to work (stoppage), either in the form of "walkouts", "go slows" or refuse to comply with conditions of employment.
Lastly, they should get a certificate from the CCMA that a dispute has not been resolved. This non-resolution certificate paves a way for employees to go on strike but they are nevertheless expected to give their employer 48 hours' notice. 
The LRA prohibits public sector employees who are classified as "essential services" from striking. The Act defines an essential service as "a service the interruption of which endangers the life, personal safety or health of the whole or any part of the population". Members SAPS employed under the SA Police Service Act, the defence force and health workers fall under this category.
The right to strike always comes with responsibility and employees need to abide by the rules. The Regulation of Gatherings Act 205 of 1993 outlaws the carrying of dangerous weapons such as knives, pangas, machetes, sticks, shields, knobkerries, axes, a brick, rocks, bottles, petrol bombs and any other weapons. Disturbance to the flow of traffic, burning of tyres and disruption of businesses is also prohibited under the Regulation of Gatherings Act 205 of 1993.
It is important to bear in mind that the State does not take sides in labour disputes; however, Government has a responsibility to prevent and combat lawlessness during protests. To be on the safe side, it is advisable to know which laws are applicable before embarking on a march. It's always best to know your rights and responsibilities.
Jabulani Sibanyoni
works for Government Communication and Information System (GCIS). He writes about current affairs.