The tragedy which unfolded at Lonmin's Marikana mine in the North West over two months ago has encouraged us to examine the very fabric of our society. In the intervening period we have seen workers take to the streets to voice their frustration at their living and working conditions.
The right to strike is enshrined in our Constitution; however, these rights must be exercised within the confines of the law. Regrettably we have witnessed a number of wildcat strikes, which failed to take advantage of this right. We have seen workers destroy property and intimidate non-striking workers. We have also seen established bargaining and labour channels being overlooked.
These actions have unfortunately put the jobs and livelihoods of these workers at risk. Anglo American Platinum has reportedly dismissed 12 000 striking workers; Gold One has dismissed more than 1 400 workers, while platinum miner Atlatsa also fired 2 161 miners. It paints a bleak picture as each individual miner supports dependents, so thousands of lost jobs are amplified into thousands more people potentially being destitute.
South Africa's mining industry is now under immense pressure due to the weakening demand from industrialised nations. Analysts too have pointed out that there could be thousands of possible job losses in the mining sector this year. These illegal strikes have sadly compounded the problem.
There are also fears that labour issues are turning off investors who could now perceive the country to be a risky investment destination. All these factors combined are said by some analysts to be the reason that international rating agencies Moody's Investors Service and Standard & Poor's (S&P) have downgraded South Africa's credit status. 
It is often said that the character of a leader is defined by his or her actions during tough times. In this trying time it is the leadership of President Jacob Zuma which has stood out. On Wednesday, 17 October we heard a clarion call from the President when he met with business and union leaders to secure a social pact that would benefit all South Africans. This was a follow up to a meeting on 12 October and it included representatives from Business Unity South Africa (Busa), the Black Business Council, the Congress of South African Trade Unions (Cosatu), the Federation of Unions of South Africa (Fedusa), the National Council of Trade Unions (Nactu); as well as Ministers from the economic sector.
But this was no talk shop; the meeting made concrete recommendations and suggested several courses of action to deal with the domestic economic situation, as well as pressures from the global slowdown. What emerged was a strong determination from South Africans of all persuasions to work together to find solutions.
Addressing the media after the meeting on 17 October, President Zuma said: "We have emerged today with one voice, one message and strong confidence in our capacity as a society to address the immediate challenges we face and to lay the basis for long-term growth and job creation."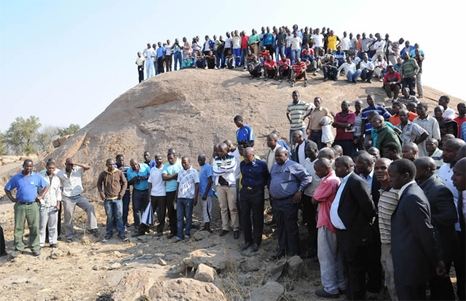 He said that the parties had agreed to take steps to improve public and investor confidence in the economy and in social stability, using their respective resources and capacities to build a partnership for development.
Among the steps agreed upon is a package of economic and socio-economic measures to stimulate the local economy in the face of slowing global growth. These include:
Accelerated infrastructure rollout to create jobs and provide the basis for social inclusion and growth.
Addressing the living conditions of mining communities.
Measures to address the challenges faced by workers and companies affected by the global economic slowdown.
Measures to consider job creation through public sector work programmes.
Addressing the growth of reckless lending.
All these measures are underpinned by a firm commitment from all sides. A conducive and enabling environment in the mining sector will be created as a matter of priority. Normalising relations is essential if we are to begin to fully implement the vision of the Mining Charter which aims to better the lives of workers.
Speaking at the Presidential Infrastructure Investment conference on 19 October, President Zuma said: "The strikes in the mining sector in particular, have demonstrated just how far we still have to go towards ensuring full compliance with the Mining Charter, especially with the implementation of social and labour plans which call for an improvement in the living conditions of workers."
Getting miners back to work is the first step in this process.
In the past few days we have seen striking miners slowly beginning to return to work and a semblance of normality return to mining areas. Government is also heartened that some of the major mines met with unions to jointly find a way forward. 
It is this spirit of partnership and compromise that we need now more than ever, our shared dream remains to secure a better life for all. For this we need to grow our economy and create jobs and opportunities for more people. Our common enemy is the triple threat of inequality, poverty and unemployment. 
Without doubt the next few months will prove to be trying and our collective resolve as a nation will be tested. But South Africans, more than any other nation are known for finding solutions to even the most intractable of problems. Together let us move forward, let us learn from the tragedy at Lonmin and build a more equitable and inclusive society for all. 
In the words of the President: "We have a responsibility to our country, our common future, to act as one."
Phumla Williams
is Acting CEO of the Government Communications and Information System (GCIS)