Glancing up at the clock the luminous green dial reveals that it is 11pm, you go through the usual routine, checking the doors and windows before going to bed.
Without warning the silence is broken; shattered by the unmistakeable sound of arguing. You try and ignore it, telling yourself it's not your problem, good neighbours keep to themselves. But the shouting gets louder, a feeling of dread and helplessness begins to pass over you.
Your mind is racing, you rationalise it by saying that couples fight all the time; that it is normal. But the nagging voice at the back of your mind will not let go. Your thoughts are interrupted by a piercing scream and the sound of breaking glass and then utter silence.
You are shocked and unsure what action to take; the silence is even more unnerving than the shouting and screams. Eventually you decide to do nothing!
Would any of us act differently if we are confronted by such a horrifying scenario? Would we overcome our fears and act, or would we look away?
In South Africa we are faced with the tragic reality of women and children being among the most vulnerable in our society. If we are to break the cycle of violence and abuse in society it is incumbent on every one of us not to look away, or turn a blind eye to abuse.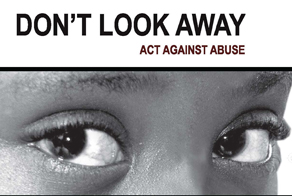 The violence takes different forms such as sexual harassment, abuse, assault, rape, domestic violence and other cultural practices that are cruel to women and children such as child muti killings.
Child and women abuse rates remain high because of the reluctance of both victims and communities at large to stand up against the cycle of abuse. While many associate abuse with physical or sexual violence, it can take numerous forms, such as verbal, psychological and emotional abuse.
The common thread among all forms of abuse is often not only the act of violence itself, but the abuser's desire to exercise total control over the abused. Women are faced with many barriers when trying to leave abusive relationships such as finance, or having to leave their children behind with the abusive partner. Sadly, this also result in victims themselves turning a blind eye to their own abusive environment.
During this time, Government in conjunction with civil-society organisations and the business sector work together to make people aware of the negative impact of violence on women and children and to act against abuse.
The 16 Days campaign is but one leg of Government's fight against the scourge of gender violence. Equally important has been a raft of measures (legislation and institutions) for the protection and advancement of equality and empowerment of women and children.
Gender equality is now a constitutional imperative in our country. This is further reinforced by various pieces of legal instruments, including the Promotion of Equality and Prevention of Unfair Discrimination Act, the Employment Equity Act, the Domestic Violence Act, Maintenance Act, Sexual Offences Act and the Civil Union Act.
Internationally, we are parties to various instruments, such as the Convention on the Elimination of All Forms of Discrimination Against Women, the Beijing Platform for Action, the Protocol to the African Charter on Human and People`s Rights on the Rights of Women in Africa, the SADC Protocol on Gender and Development, as well as the AU Gender Policy, among others.
Government is also establishing a Council on Violence against Women and Children. The Advisory Council will comprise of key government departments, civil society organisations and other relevant partners. It will coordinate comprehensive initiatives implemented to stop the scourge.
At the same time the Gender Equality Bill provides government with the legislative authority to fast-track the empowerment of women and address issues of enforcement and compliance towards the attainment of our target of 50/50 gender parity.
Government also provides support to children to fight child poverty. More than 10,5 million children benefit from the child support grant, while we provide foster care benefits to over 563 000 vulnerable children.
Government subsidises close to 800 000 children at early childhood development centres to enable children from poor households to obtain early education. In addition, more than eight million children at primary and secondary schools benefit from school-feeding schemes.
Government is doing all it can to promote gender equality in all spheres of society and to fight the scourge of child and women abuse, but much more must be done. The 16 Days of Activism for No Violence Against Women and Children campaign is a platform for all of us to make our voices heard. It cannot be that we turn a blind eye anymore, the abuse of even one vulnerable woman or child is one too many.
Government calls on people to support the campaign by wearing the white ribbon during the 16-day period: A white ribbon is a symbol of peace and symbolises the commitment of the wearer to never commit or condone violence against women and children.
People are also encouraged to join the
Cyber Dialogues
initiative that facilitate on-line discussions on issues related to the abuse of women and children, share experiences and propose solutions. Alternatively people can volunteer in support of NGOs and community groups who support abused women and children.
Every one of us must speak out against woman and child abuse. Speaking on the occasion of National Women's Day President Jacob Zuma said: "We urge communities to help government eradicate violence against women through reporting such crimes. Domestic violence in particular should not be treated as a private matter. It is a crime and must be reported to the police."
But most importantly, society has an obligation to completely stamp out violence towards the vulnerable. Parents, teachers, leaders of today and tomorrow need to rise and teach our boys and girls – who will be our future - to understand the constructive role both women and men play in building our country and the world. We owe this to the future of the country.
Let us not look away when women and child cry in anguish! Let us contribute in our families in teaching our children the right values so as to produce better families and societies. Let us build our future by doing the right things today.
Phumla Williams
is Acting CEO of the Government Communication and Information System (GCIS)