27 April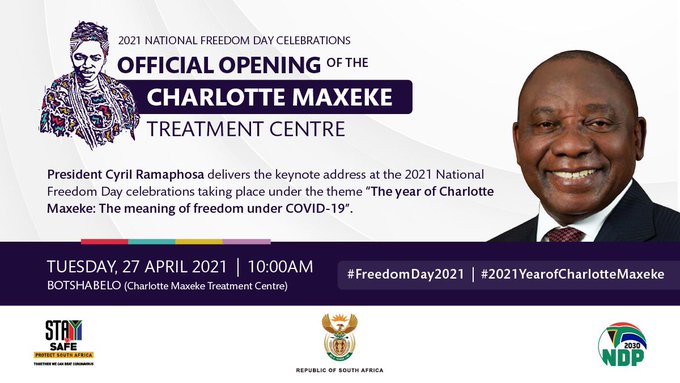 Freedom Day is the commemoration of the first democratic elections held in South Africa on 27 April 1994.  These were the first post-apartheid national elections to be held in South African where anyone could vote regardless of race.
This year's Freedom Month will be celebrated under the theme "The Year of Charlotte Maxeke: the Meaning of Freedom under COVID-19".

The commemoration comes at a time when South Africa is about to embark on a massive vaccination programme.  Vaccines save lives and represent our best chance to return to our normal way of life.
We call on everyone to use the Freedom Month and Freedom Day celebrations to pull together over the coming weeks and months. Let us continue to fight the virus while striving for greater inclusion and social cohesion.
Although we have made remarkable progress since 1994, the spectre of inequality, poverty and unemployment remains one of the most glaring impediments to South Africa's goal of national unity and social cohesion.
We also dare not forget the terrible past from which we have come, nor should we forget the many sacrifices made by patriots to ensure our democracy and freedom. Our history abounds with selfless patriots who paved the way for a democratic and free South Africa.
This year marks the 150th anniversary of struggle icon and human rights campaigner Charlotte Maxeke. She and other selfless women of her generation fought against oppression at a time when such defiance was met with unrelenting force.
Join the conversation on social media pages: #FreedomDay #2021YearofCharlotteMaxeke #FreedomMonth