The South African Government adopted a National Infrastructure Plan in 2012. With the plan we aim to transform our economic landscape while simultaneously creating significant numbers of new jobs, and strengthen the delivery of basic services. The plan also supports the integration of African economies.
Government planned to invest R827 billion in building new and upgrading existing infrastructure over the three years from 2013/14 , Minister of Finance Pravin Gordhan announced in his 2013 Budget Speech.
These investments would improve access by South Africans to healthcare facilities, schools, water, sanitation, housing and electrification. Investment in the construction of ports, roads, railway systems, electricity plants, hospitals, schools and dams would contribute to faster economic growth.
Challenges
18 years into our democracy, there were still major challenges of poverty, unemployment and inequality in 2012.
The New Growth Path identified structural problems in the economy and pointed to opportunities in specific sectors and markets or "jobs drivers" to reach its goal of five million new jobs by 2020. The first jobs driver is infrastructure: laying the basis for higher growth, inclusivity and job creation.
In order to address these challenges and goals, Cabinet established the Presidential Infrastructure Coordinating Committee (PICC) to:
coordinate, integrate and accelerate implementation
develop a single common National Infrastructure Plan that will be monitored and centrally driven
identify who is responsible and hold them to account
develop a 20-year planning framework beyond one administration to avoid a stop-start pattern to the infrastructure roll-out.
Under their guidance, 18 strategic integrated projects (SIPS) have been developed.
Achievements
Government and public agencies invested more than R1 trillion in infrastructure between 2009 and 2014.
The investments were in energy, road, rail, ports, public transport, bulk water and sanitation, hospitals, basic and higher education infrastructure and innovative projects such as the Square Kilometre Array and Meerkat telescopes.
By January 2013, work had commenced on all 18 SIPs. 
Investment in infrastructure continues to grow, with R300 billion invested in the National Infrastructure Plan by both the public and private sector in 2016/17.
Achievements in 2016/17 include:
Education
82 schools were either built or refurbished in 2016/17.
Since 2009 Government has built a total of 920 schools through both the Accelerated Schools Infrastructure Delivery Initiative (ASIDI) and the various provincial infrastructure projects. The biggest beneficiary of these new schools has been the Eastern Cape with a total of 334 schools delivered in that time period. 
>> Minister Angie Motshekga: Media briefing ahead of Basic Education Budget Vote 2017/18, 24 May 2017
3 693 new student beds at universities were provided (excluding buildings erected by the private sector).
Two new TVET campuses and two new universities were under construction.
>> Minister Ebrahim Patel: Economic Development Dept Budget Vote 2017/18, 25 May 2017
Energy
4 562 megawatt (MW) were completed. This includes a further unit of Medupi providing 794 MW by 3 April 2017, resulting in 2 100 MW usable energy, enough to supply electricity to a metro equivalent to twice the size of Johannesburg (including Alexandra and Soweto).
585 km of new transmission lines were erected.
1 957 solar water heaters were installed by Johannesburg, bringing the total installed to 504 060.
318 898 households were connected to the grid.  According to Stats SA's 2016 Community Survey more than 15 million households now have access to electricity.
>> Minister Ebrahim Patel: Economic Development Dept Budget Vote 2017/18, 25 May 2017
Transport logistics and related rolling stock
29 360 km of roads across the country were maintained and 332 km of new roads were added.
46 km of new bus lanes were completed in Johannesburg, eThekwini and  Cape Town to support the Bus Rapid Transport systems.
205 new buses were locally manufactured using 80% local content, bringing the total number of buses manufactured since 2009 to 612.
13 330 new taxis were locally manufactured, bringing the total number of manufactured taxis since 2011 to 57 910.
100 new rail wagons were locally manufactured, bringing the total number of manufactured wagons since 2009 to 16 507.
185 new locomotives were assembled this year bringing the total number of locally assembled locomotives since 2009 to 770.
303 km of rail were refurbished and 68 km of new rail between Ermelo and Majuba power station were being completed (2017).
>> Minister Ebrahim Patel: Economic Development Dept Budget Vote 2017/18, 25 May 2017
Human settlements
89 009 new houses were built bringing the total built since 1994 to 2,6 million.
>> Minister Ebrahim Patel: Economic Development Dept Budget Vote 2017/18, 25 May 2017
Health
Since 2012 130 new and replacement clinics have been completed and 180 others are still being constructed.
In the same period 289 existing clinics have been refurbished and 412 are in progress. 
>> Minister Aaron Motsoaledi: Health Dept Budget Vote 2017/18, 16 May 2017
Water and sanitation
The Mzimvubu Water Scheme aims to create 5 000 employment opportunities in the construction phase and 3 700 post-construction. This will also result in water supply to over 726 000 people within the catchment and in the areas of Alfred Nzo, Joe Gqabi and OR Tambo.
Phase 2 of the Lesotho Highlands Water Project will augment the Vaal River System through the transfer of additional volumes of water from Lesotho. The main features of Phase 2 are the Polihadi Dam and the expansion of the pipeline to Katse Dam.
In the Northern Cape, the Vaal Gamagara water project entails the development of a 432 kilometre pipeline. Phase 1 of the project will focus on the 82 kilometer pipeline that will stretch from Roscoe in Kathu to Black Rock. On completion of Phase I, beneficiaries will include the mining sector, livestock farms, solar parks and the communities of Kathu, Olifantshoek and Hotazel, benefiting a populace of 23 500. It is expected to be completed by August 2018.
The raising of the Clanwilliam Dam Wall and Irrigation Scheme in the Western Cape will increase water storage capacity and support the economic potential of the area.
The raising of Tzaneen Dam (Limpopo) will start in 2017.
The Lower Thukela Regional Bulk Water Scheme (KwaZulu-Natal) will supply additional water to the coastal and inland areas of KwaDukuza and Mandeni local municipalities.
The Mogalakwena Bulk Water Supply in Limpopo will benefit 94 000 people as well as mines in the Waterberg area. The project aims to deliver water to Mokopane and villages to the immediate north of the town.
The Namakwa Bulk Water Supply Scheme is set to benefit 11 500 households in the Namakwa region of the Northern Cape.
Phases 1 and 2 of the Hoxane Water Treatment Works in Mpumalanga has been completed. Phase 3 will provide an additional 27 million litres per day of purified water for the benefit of emerging black farmers.
Phase 2A of the Mokolo Crocodile West Augmentation comprises a 160 km pipeline to transfer water from the Crocodile River West near Thabazimbi to the Lephalale area. This project will support electricity generation for the country.
The Jozini water treatment plant in KwaZulu-Natal has been completed. The project comprises a 40 million litres per day water treatment plant and 13 reservoirs along the main bulk pipeline. An additional 14th reservoir is under construction and another three pump stations will be constructed along the main bulk pipeline.
>> Minister Nomvula Mokonyane: Water and Sanitation Budget Vote 2017/18, 26 May 2017
Communication
Additional "on-air" WiFi spots brought the total to almost 12 000 across the country.
Smart phone penetration was increased to about 50% of the country.
24 new MeerKAT antennae were completed bringing the total to 45.
New sources of funding for infrastructure were identified.
A new Infrastructure Project Management Technical Unit was being set up.
>> Minister Ebrahim Patel: Economic Development Dept Budget Vote 2017/18, 25 May 2017
The 18 Strategic Integrated Projects (SIPs)
The SIPs cover social and economic infrastructure across all nine provinces (with an emphasis on lagging regions).
The SIPs include catalytic projects that can fast-track development and growth. Work is being aligned with key cross-cutting areas, namely human settlement planning and skills development.
The SIPs comprise:
SIP 1: Unlocking the northern mineral belt with Waterberg as the catalyst
Unlock mineral resources.
Rail, water pipelines, energy generation and transmission infrastructure.
Thousands of direct jobs across the areas unlocked.
Urban development in Waterberg - first major post-apartheid new urban centre will be a "green" development project.
Rail capacity to Mpumalanga and Richards Bay.
Shift from road to rail in Mpumalanga.
Logistics corridor to connect Mpumalanga and Gauteng.
The Majuba Rail Project in Mpumalanga, which forms part of the move from road to rail for coal transport, was expected to be completed by December 2017  (Majuba Rail to be completed by December 2017, 7 April 2016)
SIP 2: Durban-Free State-Gauteng logistics and industrial corridor
Strengthen the logistics and transport corridor between SA's main industrial hubs.
Improve access to Durban's export and import facilities.
Integrate Free State Industrial Strategy activities into the corridor.
New port in Durban.
Aerotropolis around OR Tambo International Airport.
Work has already started on a massive logistics corridor stretching between Durban and the central provinces of the Free State and Gauteng. Most of the projects that form part of the second Strategic Infrastructure Project (SIP 2), also known as the Durban-Free State-Johannesburg Logistics and Industrial Corridor, are still in the concept or pre-feasibility stage, but construction has already started on several projects.
These include:
the building of a R2,3 billion container terminal at City Deep. Transnet completed an R800 million upgrade of the City Deep Container Terminal in Johannesburg in November 2016. SANews
a R3,9 billion project to upgrade Pier 2 at the Port of Durban
R14,9 billion procurement of rolling stock for the rail line which will service the corridor.
Work has also started on the R250 million Harrismith logistics hub development to set up a fuel distribution depot, as well as on phase one of the new multi-product pipeline which will run between Johannesburg and Durban and transport petrol, diesel, jet fuel and gas.
The aim of these projects and others which form part of SIP 2, is to strengthen the logistics and transport corridor between South Africa's main industrial hubs and to improve access to Durban's export and import facilities. It is estimated that 135 000 jobs will be created in the construction of projects in the corridor. Once the projects are completed a further 85 000 jobs are expected to be created by those businesses that use the new facilities.
SIP 3: South-Eastern node & corridor development
New dam at Mzimvubu with irrigation systems.
N2-Wild Coast Highway which improves access into KwaZulu-Natal and national supply chains.
Strengthen economic development in Port Elizabeth through a manganese rail capacity from Northern Cape.
A manganese sinter (Northern Cape) and smelter (Eastern Cape).
Possible Mthombo refinery (Coega) and transshipment hub at Ngqura and port and rail upgrades to improve industrial capacity and performance of the automotive sector.
The Stanley Nkosi Sinter Mine at Hotazel, Northern Cape, was launched on 29 November 2013.
Progress in the Eastern Cape include the Port of Ngqura (launched on 16 March 2012), the Nelson Mandela Legacy Bridge (opened on 11 July 2012) and  the Mzimvubu Water project (launched on 11 April 2014). 
SIP 4: Unlocking the economic opportunities in North West
Acceleration of investments in road, rail, bulk water, water treatment and transmission infrastructure.
Enabling reliable supply and basic service delivery.
Facilitate development of mining, agricultural activities and tourism opportunities.
Open up beneficiation opportunities in North West province.
SIP 5: Saldanha-Northern Cape development corridor
Integrated rail and port expansion.
Back-of-port industrial capacity (including an IDZ).
Strengthening maritime support capacity for oil and gas along African West Coast.
Expansion of iron ore mining production and beneficiation.
The Saldanha Bay Industrial Development Zone (IDZ) was officially pronounced in a ceremony on 31 October 2013.
SIP 8: Green energy in support of the South African economy
Support sustainable green energy initiatives on a national scale through a diverse range of clean energy options as envisaged in the Integrated Resource Plan (IRP2010).
Support bio-fuel production facilities.
By March 2016 a total of 6 376 MW of renewable energy had been procured from 102 independent power producers under the Independent Power Producer Procurement. Programme (REIPPPP) (Minister Tina Joemat-Pettersson: Inauguration of Solar Capital De Aar 3 PV plant, 18 March2016).
SIP 9: Electricity generation to support socio-economic development
Accelerate the construction of new electricity generation capacity in accordance with the IRP2010 to meet the needs of the economy and address historical imbalances.
Monitor implementation of major projects such as new power stations: Medupi, Kusile and Ingula.
The first unit of the Kusile power station was connected to the national grid at the end of December 2016. It is the first power plant in Africa to implement clean fuel technology such as flue-gas desulphurisation (FGD). (Eskom on Unit 1 of the Kusile power station connected to the national grid, 27 December 2017)
Minister Lynne Brown reported in May 2017 that Ingwa was in full operation, and Medupi Units 5 and 6, and Kusile Unit 1 were in commercial operation. When Ingula Pumped Storage reached commercial operation an additional 1 332 MW of peaking power was added to the national grid. (Minister Lynne Brown: Public Enterprises Dept Budget Vote speech in NCOP, 14 June 2017)
SIP 10: Electricity transmission and distribution for all
Expand the transmission and distribution network to address historical imbalances, provide access to electricity for all and support economic development.
Align the 10-year transmission plan, the services backlog, the national broadband roll-out and the freight rail line development to leverage off regulatory approvals, supply chain and project development capacity.
SIP 6: Integrated municipal infrastructure project
Develop national capacity to assist the 23 districts with the fewest resources (19 million people) to address all the maintenance backlogs and upgrades required in water, electricity and sanitation bulk infrastructure.
The road maintenance programme will enhance service delivery capacity thereby impacting positively on the population.
SIP 7: Integrated urban space and public transport programme
Coordinate planning  and implementation  of public transport,  human  settlement, economic  and social infrastructure and location decisions into sustainable urban settlements connected by densified transport corridors. This will focus on the 12 largest urban centres of the country, including all the metros in South Africa.
Significant work is underway on urban transport integration. The National Transport Master Plan (NATMAP) 2050 Synopis Report [PDF]  is the latest update of the plan.
SIP 11: Agri-logistics and rural infrastructure
Improve investment in agricultural and rural infrastructure that supports expansion of production and employment, small-scale farming and rural development, including:
facilities for storage (silos, fresh-produce facilities, packing houses)
transport links to main networks (rural roads, branch train-line, ports)
fencing of farms
irrigation schemes to poor areas
improved R&D on rural issues (including expansion of agricultural colleges)
processing facilities (abattoirs, dairy infrastructure)
aquaculture incubation schemes
rural tourism infrastructure.
Agri-parks are planned for 44 districts. By May 2017 three Agri-hubs were operational in Ncora, Springbokpan and Westonaria. Facilities are being constructed at 11 additional Agri-hubs and 12 farmer production support units.
SIP 12: Revitalisation of public hospitals and other health facilities
Build and refurbish hospitals, other public health facilities and revamp 122 nursing colleges. The SIP contains major builds for six hospitals.
Extensive capital expenditure to prepare the public healthcare system to meet the requirements of the National Health Insurance (NHI) system.
SIP 13: National school build programme
A national school build programme driven by uniformity in planning, procurement, contract management and provision of basic services.
Replace inappropriate school structures and address basic service backlog and provision of basic services under the Accelerated Schools Infrastructure Delivery Initiative (ASIDI).
Address national backlogs in classrooms, libraries, computer labs and admin buildings.
SIP 14: Higher education infrastructure
Infrastructure development for higher education, focusing on lecture rooms, student accommodation, libraries and laboratories, as well as ICT connectivity.
Development of university towns with a combination of facilities from residence, retail to recreation and transport.
Potential to ensure shared infrastructure such as libraries by universities, TVETs and other educational institutions.
Two new universities will be built - in Northern Cape and Mpumalanga.
Sol Plaatje University (SPU) in the Northern Cape and the University of Mpumalanga (MPU) both opened their doors in 2014 in selected academic programmes, using existing buildings. The second phase of construction is nearing completion and has enabled a further large increase in enrolments to reach 1 250 at SPU and 2 130 at UMP for the 2017 academic year.
SIP 15: Expanding access to communication technology
Provide for broadband coverage to all households by 2020 by:

establishing core Points of Presence (POPs) in district municipalities
extend new Infraco fibre networks across provinces linking  districts
establish POPs and fibre connectivity at local level
further penetrate the network into deep rural areas.

 

While the private sector will invest in ICT infrastructure for urban and corporate networks, government will co-invest for township and rural access, as well as for e-government, school and health connectivity.
The school roll-out focus is initially on the 125 Dinaledi (science and maths-focussed) schools and 1 525 district schools.
Part of digital access to all South Africans includes TV migration nationally from analogue to digital broadcasting.
SIP 16: SKA & MeerKAT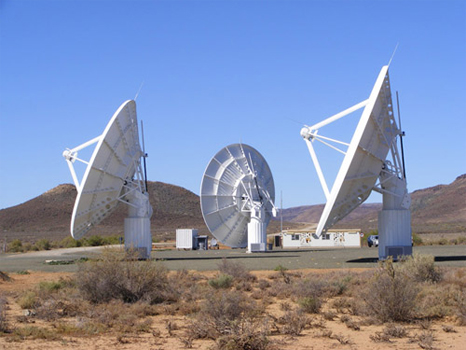 The Square Kilometre Array (SKA)  is a global mega-science project, building an advanced radio-telescope facility linked to research infrastructure and high-speed ICT capacity and provides an opportunity for Africa and South Africa to contribute towards global advanced science projects. 
The SKA precursor telescope the Karoo Array Telescope (MeerKAT) is at an advanced stage to test possible technologies to be used in the ultimate design of the SKA itself. It is expected to go live in March 2018.
SIP 17: Regional integration for African cooperation and development
Participate in mutually beneficial infrastructure projects to unlock long-term socio-economic benefits by partnering with fast-growing African economies with projected growth ranging between 3% and 10%.
The projects involving transport, water and energy also provide competitively-priced, diversified, short and medium to long-term options for the South African economy. For example, electricity transmission in Mozambique (Cesul) could assist in providing cheap, clean power in the short-term whilst Grand Inga in the Democratic Republic of Congo (DRC) is long-term.
All these projects complement the Free Trade Area (FTA) discussions to create a market of 600 million people in South, Central and East Africa.
SIP 18: Water and sanitation infrastructure
A 10-year plan to address the estimated backlog of adequate water to supply 1,4 m households and 2,1 m households to basic sanitation. The project will involve provision of sustainable supply of water to meet social needs and support economic growth.
Projects will provide for new infrastructure, rehabilitation and upgrading of existing infrastructure, as well as improve management of water infrastructure.
Sources:
Related links: