Update on progress and achievements
Basic education
More children are attending school. Close to 100% of children aged 7 to 15 were in school in 2016/17. However, the General Household Survey (GHS:2015) figures indicate that nationally around 57 000 children in that age group, all of whom should by law be attending school, are out of school at any point in time. 
Grade R enrolment has more than doubled from 300 000 in 2003 to 705 000 in 2013. The Department has committed to introducing compulsory Grade R by 2019. 
More learners are successfully completing 12 years of schooling. The class of 2016 recorded the highest enrolment of Grade 12 learners in the history of public examinations in South Africa with  828 020 candidates who registered for the 2016 National Senior Certificate (NSC) Examinations, up from 799 306 in 2015. 
The numbers of candidates who qualified for admission to Bachelor studies, those who attained Diploma and Higher Certificates passes and candidates who passed with distinctions, especially in the critical subjects, has increased with 162 374 learners passing matric at Bachelor level.
E-learning
In March 2013, the Deputy Minister of Basic Education officially launched an e-learning project at the Sunward Park High School in Boksburg which became the first public school to transform learning into a fully digital platform. 
The Depart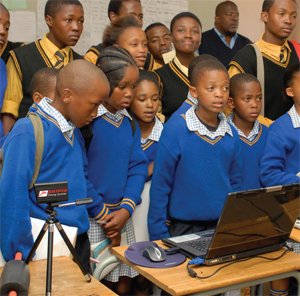 ment is in the process of providing 130 e-Libraries to schools nationally in 2017/18. This will change the lives of 12,9 million learners and over 400 000 teachers in some 25 574 schools  across the country.
Through the South Africa's Universal Service and Access Obligation (USAO), 125 out of 147 teacher resource centres have been provided with connectivity. Some 3 252 schools have received connectivity through the USAO, and 424 special schools are to be connected soon.
The Department has provided some 3 252 schools with mobile devices through the USAO project. This is complemented by provincial initiatives such as Smart Classrooms in the Western Cape and Paperless Classrooms in Gauteng.
>> Department of Basic Education Annual Report 2016/17, 26 Sep 2017
No more mud schools
In October 2012, new schools were opened at villages at Libode and Lusikisiki in the Eastern Cape. These schools were the first of 49 mud schools identified for replacement in 2012 under the Accelerated Schools Infrastructure Development Initiative (ASIDI).
By the end of 2016/17 179 schools had been completed. Since the programme's inception, 306 schools have been connected to electricity, clean water provided  to 615 schools and dignified sanitation to 425 schools. 70 schools were under construction and the tender processes for a further 40 had been completed.
By using cost-effective standards for building design, the average cost of new schools have been reduced from R70 million for 7 500 square meters to R34 million.
>> Deputy Minister Enver Surty: Basic Education Dept Budget Vote 2017/18, 24 May 2017
>> Minister Pravin Gordhan: 2017 Budget Speech, 22 Feb 2017
Adult literacy
The Kha Ri Gude Mass Literacy campaign, which was started in 2008, has reached and changed the lives of 4 386 251 illiterate South Africans. This is equivalent to 93.3% of the 4 700 000 illiterate South Africans identified by Stats SA in 2001. The campaign ended in 2016/17.
>> Department of Basic Education Annual Report 2016/17, 26 Sep 2017
Higher education and training
University enrolments have increased to 985 212 students during the 2015 academic year, which includes both full-time and part-time enrolments for contact and distance learning studies.  The aim is to increase total enrolments in higher education (public and private institutions) to 1,6 million by 2030.
The total number of university graduates produced per annum has increased to 191 524 in 2015, which exceeded the expected target of 181 616 by 9 908 graduates. The annual number of graduates increased from 165 995 during the 2012, a growth of 15.4% between 2012 and 2015. This shows that the system is improving its output, since the increase in graduates (15,4%) is far greater than the increase in enrolments (3,3%) for the same reporting period.
The number of Research Masters and Doctoral (PhD) graduates increased at a higher rate than the overall number of graduates, which is critical because it is on these post-graduates that the country depends for its future academics, researchers and other leaders within knowledge-intensive professions. The number of Research Masters' graduates increased by 20,4% from a total of 6 076 graduates in the 2012 academic year to 7 317 graduates in 2015. The number of Doctoral graduates increased by 34,7% from 1 878 to 2 530 over the same period. 
The system also performed well during 2015 with regard to producing graduates in scarce skills areas, with 12 470 engineering graduates (1 870 more graduates than the target), 7 917 natural and physical sciences graduates (1 017 more graduates than the target), 20 698 new teachers (2 398 more graduates than the target) and 9 851 graduates in animal and human health studies (151 more graduates than the target).
Sol Plaatje University (SPU) in the Northern Cape and the University of Mpumalanga (MPU) both opened their doors in 2014 in selected academic programmes, using existing buildings. In the 2016 academic year, 703 students were enrolled at SPU and 1 268 students at UMP. This constitutes a significant increase from their initial intakes of 124 students and 140 students respectively during 2014. The second phase of construction is currently nearing completion and has enabled a further large increase in enrolments to reach 1 250 at SPU and 2 130 at UMP for the 2017 academic year.
The
Sefako Makgatho Health Sciences University
, the third new university in the country, successfully incorporated the Medunsa campus of the University of Limpopo and opened its doors in January 2015. It is set to expand student enrolment from an initial 5 000 students to 10 000 students by 2025. 
Ten university and two technical and vocational education and training (TVET) college student housing projects were initiated as part of the Department's Student Housing Infrastructure Programme. This is aimed at ensuring an additional 200 000 beds at universities and 100 000 beds at TVET Colleges are provided over the next 10-year period. 
A top priority is to expand and improve the quality of  TVET colleges. TVET colleges enrolled 737 880 students in 2015, an increase of over 35 000 students from 2014. The White Paper for Post-School Education and Training aims at 2.5 million students by 2030.
The Department published an updated National List of Occupations in High Demand in January 2016 to support planning within the Post-School Education and Training (PSET) system, particularly in relation to enrolment planning, resource allocations and career advice, as well as qualifications development.
Cost of education
A Ministerial Task Team was established to determine and advise on alternative financing and operating models for the funding of poor and "missing middle" students. Based on the report and recommendations of the Task Team, the Ikusasa Student Financial Aid Programme (ISFAP) was piloted at seven universities and one TVET college during the 2017 academic year. 
The Presidential Commission of Inquiry into Higher Education and Training (the Heher commission) was appointed look into the feasibility of making higher education fee-free in South Africa.  The commission's report was released on 13 November 2017 with recommendations that:
all students studying at both public and private universities and colleges be funded through a cost-sharing model of government guaranteed Income Contingency Loans (ICL) sourced from commercial banks with as an alternative  the Ikusasa Student Financial Aid Programme.
all students at TVET colleges should receive fully subsidized free education. 
More qualified teachers
During the 2015/16 financial year, 10 216 young and qualified teachers entered the system. This was 1 616 above the annual target of 8 600. In 2015, 4 723 graduates who had been Funza Lushaka bursary recipients were eligible for placement. By end of 2015/16, 4 424 graduates were placed.
The Department of Basic Education awarded 14 343 Funza Lushaka bursaries during 2016/17.
A skilled and capable workforce to support an inclusive growth path
The White Paper for Post-School Education and Training  provides a vision for the post-school education and training system sets the basis for building a coherent system and a broad policy for:
expanding post school provision to improve access
strengthening institutions to improve quality
setting out a vision and pathways for achieving a coherent post-school system with articulation, collaboration and coordination between the different components, as well as alignment between education and training institutions and the labour market and
a post-school education and training system that is equitable, accessible and affordable to all sections of the population, including free education and training for the poor.
The National Development Plan 2030 [PDF], released on 15 August 2012, proposes among others:
Increasing the number of university graduates and the number of people doing their doctorates
Building two new universities in Mpumalanga and  the Northern Cape
Building a new medical school  in Limpopo and  a number of new academic hospitals
Extending the length of first degrees to four years on a voluntary basis
Providing full funding assistance covering tuition, books, accommodation and  living allowance (in the form of loans and bursaries) to deserving students
Granting seven-year  work permits to all foreigners who graduate from a registered South African university.
Outcomes for education
The education ministers and MECs have signed delivery agreements based on Outcome 1: Improved quality of basic education [PDF] and Outcome 5: A skilled and capable workforce to support an inclusive growth path. These documents list standards against which performance are measured.
Programmes and initiatives supporting education
>> Angie Motshekga: Launch of Strategic Planning Framework for Teacher Education and Development
Government will empower principals to manage their schools and they will be held accountable for maintaining a high standard of education. All principals and deputy principals will enter into performance contracts with clear performance targets. This will help to strengthen accountability in and district support for schools.
Government will track performance through the independently moderated annual national assessments in all public primary schools for learners in grades one to six and a sample of learners in Grade 9. The last national assessments were written in 2014.
>> Angie Motshekga on the annual national assessments results 2014
>> 2014 ANA Diagnostic Reports
The University Capacity Development Program (UCDP) will be implemented from the beginning of the 2018 academic year, and will prioritise historically disadvantaged universities. This programme will allocate R900 million in the first year, increasing nominally in subsequent years.
Community colleges, aimed at increasing educational access to those South African who never finished school, will be piloted in 2017/18.
>> Minister Blade Nzimande: Higher Education and Training Budget Vote 2017/18
What Government says about education
Documents
Department of Basic Education Annual Report 2016/17, 26 Sep 2017
Statistics on Post School Education and Traning 2015, 31 March 2017
General Household Survey2015 (GHS:2015), 2 June 2016
Education statistics in South Africa 2013, March 2015
SA Yearbook 2015/16, chapter on Education
White Paper for Post-School Education and Training: Building on Expanded, Effective and Integrated Post-School Education [PDF], 15 January 2014
General Household Survey (GHS) 2011: Focus on schooling, 26 June 2013
Mid Term Review Report, 1 June 2012
National Development Plan, 11 November 2011
National Skills Accord [PDF], 21 July 2011
Integrated Strategic Planning Framework for Teacher Education and Development [PDF], 5 April 2011
Human Resource Development Strategy for South Africa 2010-2030 [PDF], 22 February 2010
Links