Kha ri Gude (Tshivenda for 'let us learn') teaches adults who missed out on their schooling, and who cannot read or write, in literacy classes that held all over South Africa.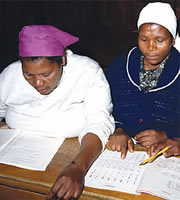 The Kha Ri Gude Literacy Campaign is informed by the Constitution of South Africa, which states that "Everyone has the right to a basic education, including adult basic education (Chapter 2, Clause 29, 1a). According to Statistics SA (2001), there were 9.6 million illiterate adults in South Africa above the age of 15. Of these, 4.7 million, including people living with disabilities, were illiterate and innumerate in one of the 11 official languages.
The Kha Ri Gude Literacy Campaign was intended to reduce the national rate of illiteracy by 50% by 2015. This was in line with the government's Education for All (EFA) commitment made in Dakar in 2000 as well as its commitment to achieve the Millennium Development Goals (MDGs) on poverty reduction, women's empowerment, HIV and AIDS eradication, environmental protection, and sustainable democratisation and peace building.
The aim of Kha Ri Gude is to empower (skills development) socially disadvantaged people to become self-reliant and to be able to participate more effectively in the economy and society.
Kha Ri Gude reached 3.9 million illiterate adults at a cost of R2.97 billion between the programme's inception in 2008/09 and 2014/15. The Department expects to reach the remainder of the targeted 4.7 million by 2016/17, after which the programme will be phased out.
More about Kha ri Gude
For more information contact the campaign call centre: 0800 20 29 33