The Centre for Public Service Innovation (CPSI) is a Government Component which reports to the Minister for the Public Service and Administration, established with a mandate of nurturing innovation in the public sector. It was established in 2001 by the Minister for Public Service and Administration as a Section 21 company. In 2008 CPSI became the first Government Component listed in the Public Service Act.
Annual Innovation Awards
CPSI Awards - Unearthing Innovation for a better Public Sector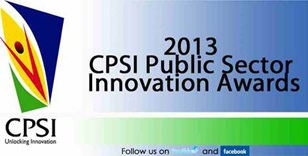 This programme aims to incentivise and promote innovation in the South African public sector. It awards innovation that has improved service delivery and thus
made a difference in the lives of citizens or improved the efficiency of the public sector.
To participate, public service projects should be submitted before
the closing date of 2 August 2013. Projects can be entered in one of four categories:
Partnerships in Service Delivery
Innovative use of ICTs for Effective Service Delivery
Innovative Service Delivery Institutions
Innovative Enhancements of Internal Systems of Government
Winners of each of the four categories will be considered for the coveted
Public Sector Innovator of the Year Award.
To enter, complete the submission form that can be downloaded from the
CPSI website or hardcopies requested. Please submit your form via e-mail, post or deliver by hand:
Website: http://www.cpsi.co.za/dt_gallery/awards/
E-mail: cpsiawards@cpsi.co.za or
Postal Address: Postnet Highveld, Suite 404, Private Bag X111, Centurion, 0046
Street Address: Corner of Lenchen & Von Willich Street, Centurion
For further information, please contact:
Mmabatho Mashaba at
Tel: 012- 683 2814/2800/2841 or 076 4223 716
Annual Public Sector Conference
The Centre for Public Service Innovation, in line with its mandate of unlocking innovation in the public sector, creates a platform that exposes the public sector and its strategic partners to innovation opportunities and strategies, through sharing of related knowledge and experiences. The conference targets decision makers throughout the three spheres of government, innovation practitioners, service delivery champions as well as partners from the private sector and the academia, both locally and internationally.
Objectives of the conference
To demonstrate the role and centrality of innovation as a tool for responding to current government priorities and for anticipating citizens' changing needs;
To collaboratively explore key elements for successful implementation and sustaining of innovative programmes that enhance public sector performance;
To facilitate sharing of innovative perspectives and practices that respond to service delivery priorities for replication.
All Africa Public Service Innovations Awards
The All Africa Public Sector Innovation Awards (AAPSIA) programme is open to all Government departments and public entities across Africa.
The theme for 2012 was "Africa Innovating for Enhanced and Sustainable Service Delivery". The theme acknowledges the strong relationship between good governance and accountable service delivery.
The All Africa Public Sector Innovation Awards is the first Africa-wide awards programme that celebrates innovation in the public sector. The programme recognises and rewards the achievements of the public servants and their partners from the private and not-for-profit sectors who have successfully developed innovation solutions to service delivery and government challenges.
AAPSIA Awards are awarded in three categories:
Innovative Service Delivery Improvements:

Improve the delivery of services to citizens and stakeholders external to government OR
Improve internal efficiency within the public sector.
Innovative Partnerships between Government, Private Sector and Civil Society Organisations:

Involve creative partnerships that have resulted in better than anticipated outcomes for the project.
Have built sustainable relationships between government and other social partners through alternative approaches to participation and consultation.
Innovations in the Systems and Processes of Governance

Projects focused on building accountable, transparent and ethical public services which value the input and participation of citizens
The aim of AAPSIA is to award successful and effective service delivery improvement projects and initiatives that have been achieved through the application of innovative approaches, methodologies and tools.
The AAPSIA project was conceptualised during the 4th Pan African Conference of Ministers of Public/Civil Service that took place in Stellenbosch, South Africa in 2003. The initiative seeks to enhance knowledge exchanges and development through working closely with other developmental partners on governance and public administration alike. The project was officially launched in Addis Ababa, Ethiopia during the 5th Pan African Conference of Ministers of Public/Civil Service in December 2005.
The AAPSIA project is part of a bigger endeavour by African Ministers of Public Service/Civil Service to cultivate an enabling environment within the public sector for the development and nurturing of innovative ideas and initiatives.
Follow CPSI on Twitter: CPSI_SA and Facebook: Centre for Public Service Innovation.