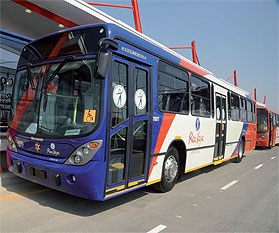 The Tshwane Rapid Transit (A Re Yeng) started operating in 2014.
All A Re Yeng buses are equipped with free wi-fi on the trunk route, full air conditioning, low-floor technology which supports Euro V emission levels, vehicle stability and a cashless automated electronic system that is fully monitored by camera and censors. The buses are operated by qualified former taxi drivers recruited from the various taxi associations in the City.
The A Re Yeng bus project will be rolled out in phases, culminating in the construction of 80-kilometre long dedicated lanes. The route will comprise 51 bus stations that stretch from Soshanguve to Mamelodi, passing through the city centre and surrounding suburbs.
The City of Tshwane's launch follows on Johannesburg's Rea Vaya and Cape Town's MyCiti Integrated Rapid Transit systems.
The City of Johannesburg's Rea Vaya bus system route was operational in October 2013.
The route runs from Soweto and passes through Noordegesig, New Canada, Pennyville, Bosmont, Coronationville, Newclare, Westbury, Westdene, Melville, Auckland Park and Parktown, and it links to the CBD.
By June 2015, Rea Vaya buses carried an average of 37 579 passengers each working day.
The GO!Durban system was launched in 2015. Once completed, the GO!Durban will see minibus vehicles collect people from residential areas to transfer stations where they will get buses to their preferred destinations.
About R20 billion set aside for transformation of Durban's public transport system was expected to connect 600 000 commuters across the city to nine public transport corridors by 2027.
In mid-2016, the first phase of Ekurhuleni's Harambee BRT service was implemented.
Harambee aims to connect the nine Ekurhuleni towns of Benoni, Germiston, Springs, Kempton Park, Edenvale, Nigel, Brakpan, Boksburg, and Alberton. Harambee's 56-km trunk route from Tembisa in the north to Vosloorus in the south will be built in phases, and started with the section from Tembisa via Kempton Park to OR Tambo International Airport.
All the South African BRT systems will expand in phases over the next decade.
Get more information: